Building a website in 2023 is way easier than back in the day. You don't even need to code, all you need is a good website builder.
With the right website builder, you're able to create your website within minutes and get ready to sell your products, offer your services, and earn money.
However, one challenge you might face is to choose the right one. To help you with that, I've checked what Reddit users are reporting.
Let me show you all the website builder recommendations.
What is the Best Website Builder According to Reddit?
Different needs require different website builders. Here's a quick overview of what Reddit users are recommending.
| Website Builder | Best for? | Price from |
| --- | --- | --- |
| Elementor (WordPress) | Best Website Builder | $49 per year |
| Shopify | Best Website Builder for Shopping | $29 per month |
WordPress
Let's check out WordPress and Elementor first.
WordPress is an open-source platform. It's one of the most established content management systems worldwide and it has a huge community. Almost every developer you can find will have no issues working with WordPress.

Elementor is the plugin that will turn your WordPress website into a fully functional website builder. Using WordPress is a breeze, if you get the Elementor PRO version.
Here're some Redditors explaining why it's worth it to get the PRO version.

As you can see Elementor is the most popular website builder you can use with WordPress.
When WordPress + Elementor Should Be Your Choice
There are many reasons to choose WordPress. The biggest advantage is that WordPress is basically free and you're not bound to any service provider. You can choose your hosting provider, your WordPress theme, and your domain registrar. You're also free to move your site to any platform you like.
In addition, you can choose from a large library of themes and plugins. Since the WordPress community is loaded with developers, there is a plugin for almost every function you can imagine. Many of them are completely free and they give you the power to customize your site however you like.
But there is another advantage.
In case you would like to do some SEO and rank your website on Google, WordPress is the easiest website builder to achieve this. Not only is the code clean and simple, but it also comes with all the SEO functionality you can think of. Doing SEO is definitely harder with a traditional website builder.
SEO plugins like Yoast SEO let you take full control of your website's SEO optimization. You can easily add meta tags, create schema JSON codes, and generate sitemaps.
What Do You Need To Use WordPress?
If you're ready to get started with WordPress, you'll need three things. A website builder (Elementor), a hosting provider, and a domain. Imagine your domain as your website's address on the web and your hosting provider where all your files will live in.
A good hosting provider will cost about $5 - $10 per month and a domain approximately $10 per year. As you can see this is the most affordable option if you want to work with a website builder. Not more than a cup of coffee per month.
If you'd like to see WordPress hosting recommendations from Reddit, make sure to check out my article which highlights the best WordPress hosting providers as rated by Reddit users.
For your domain registrar, Reddit's suggestion is to go with Namecheap.
What About Your WordPress Themes?
If you get Elementor, you'll be able to use the "Hello Theme", which is a great theme to start with. Other than that, GeneratePress is also being recommended a lot by Reddit users.
You can also choose from thousands of other different WordPress themes depending on your needs. You could even hire someone and get a custom one. But yes, there are several reasons why WordPress themes are important.
One of them is security. If you're dealing with an older WordPress theme that doesn't get frequent updates, you might be in danger of someone hacking your site.
With an up-to-date theme, you don't have to go through that struggle.
Another aspect is performance. Some WordPress themes are lightning-fast. That's huge if you're doing SEO. But it's also great for your visitors. A good user experience requires a fast website.
As you already know, WordPress gives you the ability to install plugins. The better your theme, the better the compatibility with those plugins, and the more plugins you can choose from.
What's The Disadvantage Of Using WordPress
WordPress is easy to use, but like any new tool, it has a learning curve.
You must handle everything independently, such as selecting a hosting provider or installing WordPress on your server. However, your hosting provider may offer a one-click WordPress installation or an automatic backup plan.
If your website requires a special feature, it's up to you to find a suitable plugin and configure it.
As challenging as this might sound, you shouldn't have a lot of problems. With the number of tutorials, guides, and a super helpful community of WordPress users out there, you'll get all the help you need. For starters, I can recommend the WordPress subreddit.
Shopify - The Ecommerce Website Builder
Shopify is the clear winner when it comes to e-commerce. It enables you to create your online store with a user-friendly interface, a vast array of customizable themes, and great flexibility.
Redditors love Shopify. It's especially recommended for smaller brands.

If you struggle to build an online store, because you're worried about your lack of design and development skills, Shopify is designed exactly for that purpose. You won't have a hard time setting it up and in case there is something you need help with, Shopify offers 24/7 customer support. It's secure, you can scale your business and it offers a variety of payment methods.
Make sure to check it out if you're trying to get into e-commerce.
Squarespace
Squarespace is a classic WYSIWYG drag-and-drop editor. They offer a comprehensive solution by handling the hosting, managing your domain, and providing all the necessary tools from a single, convenient source.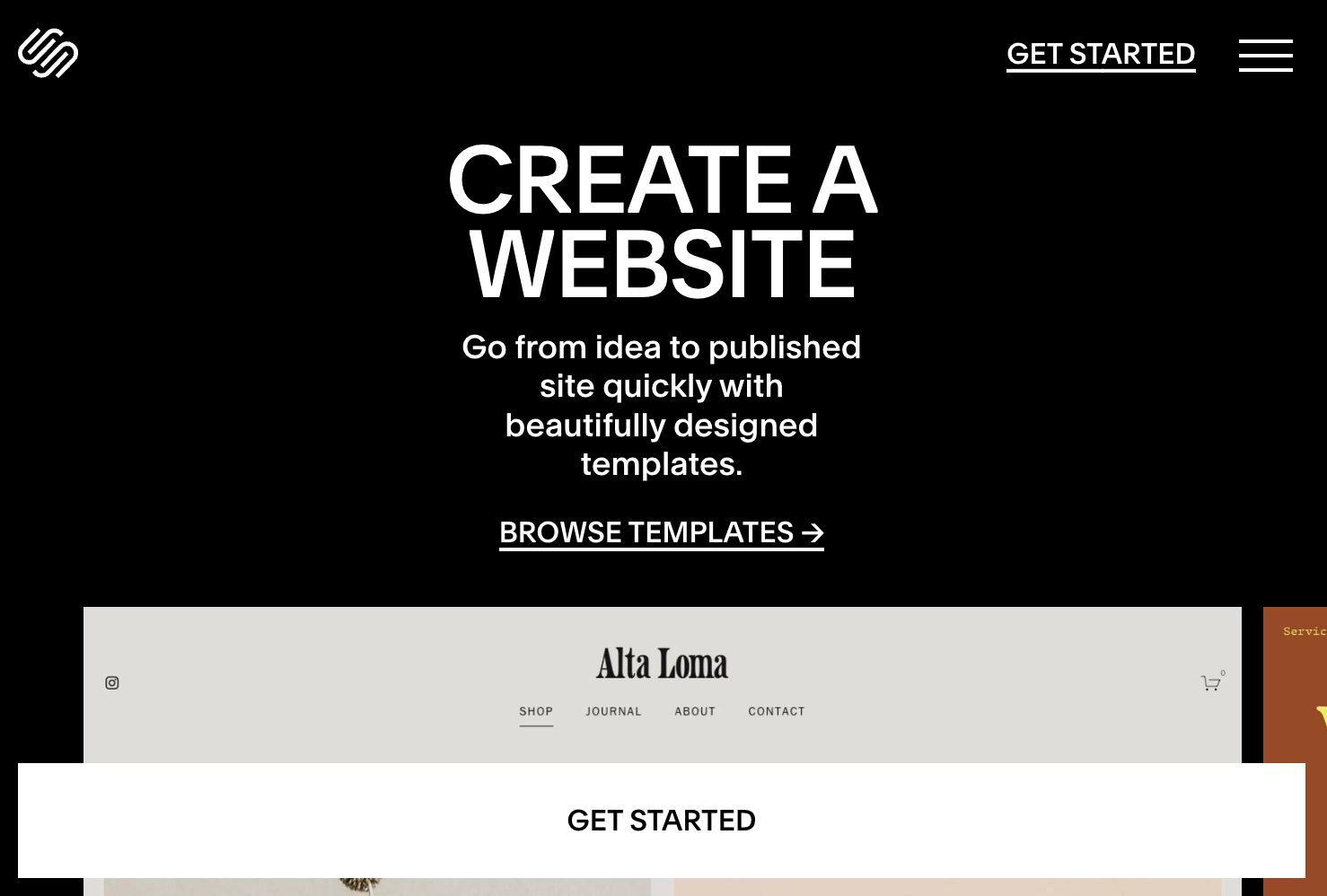 It's a popular website builder on Reddit.


One of the greatest advantages of Squarespace is its simplicity in getting started. It's one of the easiest ways to get started. Within minutes, you can sell your products, create your portfolio or start a blog. Squarespace has an easy-to-use interface with almost no learning curve.
If you want to focus on your business without worrying about maintaining plugins or dealing with hosting companies, Squarespace is the way to go.
How to get Started with Squarespace
The first step is to select a template. Squarespace makes this process really simple by asking questions regarding your website and your business. Then you can select from a variety of modern website templates.
Here's what they selected for me after describing my business as a designer who's selling products.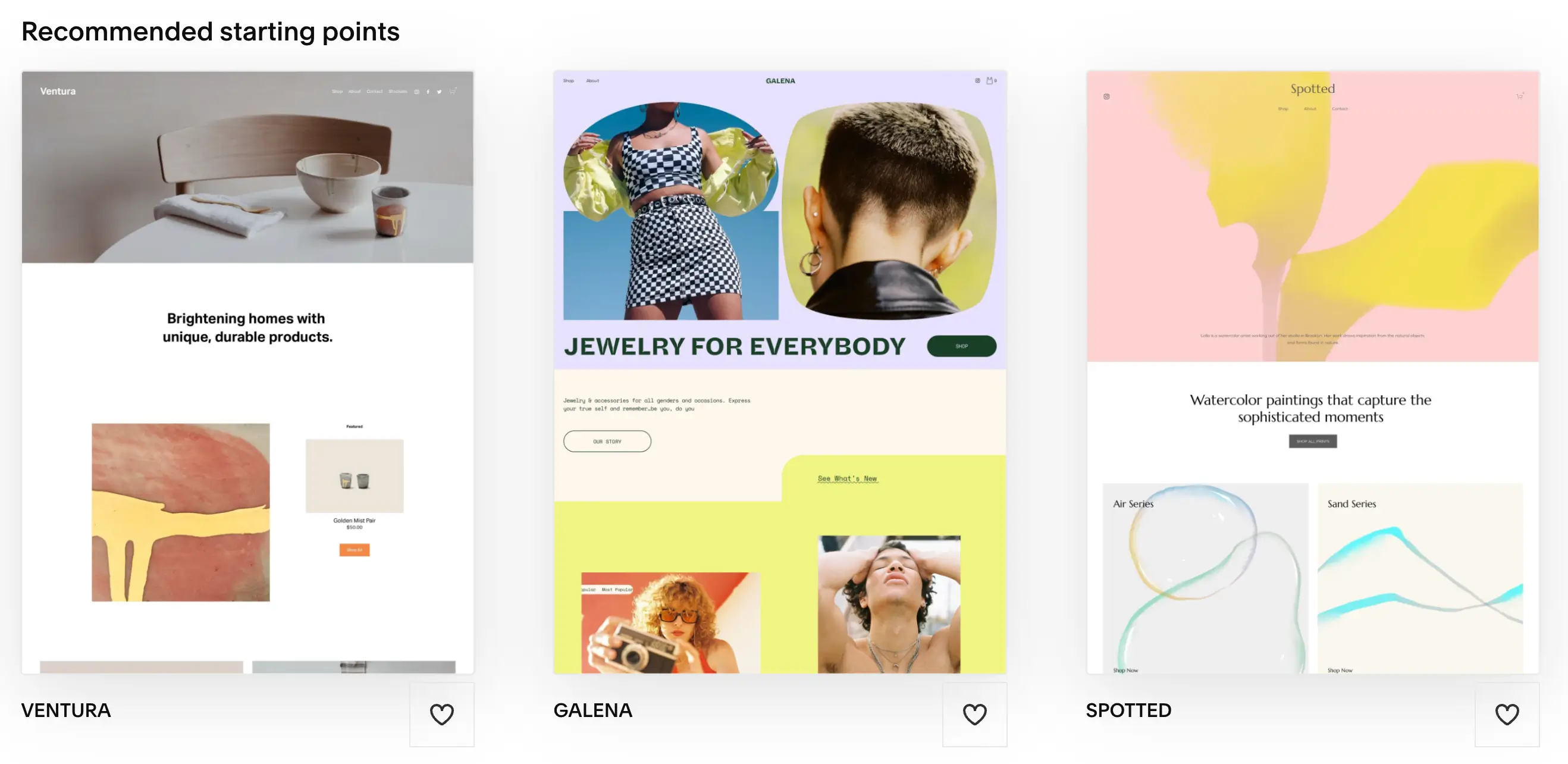 And that's not it. I was able to choose from hundreds of various website themes. The selection is huge.
Squarespace Pricing
To get going, all you have to do is pick a plan that suits you. You have the option of paying on a monthly or yearly basis. Personally, I prefer to opt for the monthly option as it gives me the flexibility to cancel at any time. However, many users choose the annual plan due to Squarespace's widespread popularity.
By selecting the personal plan, you'll be charged $23 per month with a monthly payment option. However, you can lower your monthly rate to $16 by choosing the yearly payment option. This way you'd save 30%.
The Personal plan includes all the essential features, such as unlimited bandwidth, access to customer support, and SSL.
Squarespace VS WordPress According To Reddit
You might be wondering, what distinguishes Squarespace from WordPress and how do they compare? I stumbled on this helpful answer on Reddit:

That's also my experience with Squarespace. The extent of your SEO efforts is something to consider. If SEO isn't your top priority, I'd recommend choosing Squarespace over WordPress.
On the other hand, if you want to dive deep into SEO, WordPress offers more control. That being said, it's important to note that Squarespace does provide great SEO capabilities, it's just that WordPress offers more options in this area.

There's also another thing to be aware of. If you use Squarespace you're limited to their services and offerings. So, in case you want to choose a certain hosting provider, remember that you can't do that with Squarespace. You're stuck to their hosting.
With WordPress, you can choose from a huge collection of plugins, the ability to select your own hosting provider, and you're able to buy third-party WordPress themes.
However, this may not be an advantage for you. You may prefer not to handle these responsibilities and instead let Squarespace do all the work.
Can You Export Your Squarespace Website To WordPress?
Yes, that's possible. Squarespace offers an export function and WordPress, on the other hand, is able to import your Squarespace website. However, it's always a good idea to double-check everything after the transfer. If you want to learn more about this topic, there's a Reddit post discussing it that you might find helpful.
Webflow
Lot's of users like Webflow because of the beautiful interface, the clean code, and you don't need to look out for hosting or anything. With Webflow you'll get one-stop shopping. Hosting, plugins, and themes are all available through Webflow.
Here're some of the top upvoted comments I've found on Reddit about Webflow.


Why is Webflow so Popular?
The main reason is that Webflow does not work like a classic "What you see is what you get" editor. Webflow does not have the same drawbacks, like messy code, for example. However, it's also not just a CMS. So, what is it?
Essentially it's a visual coding tool.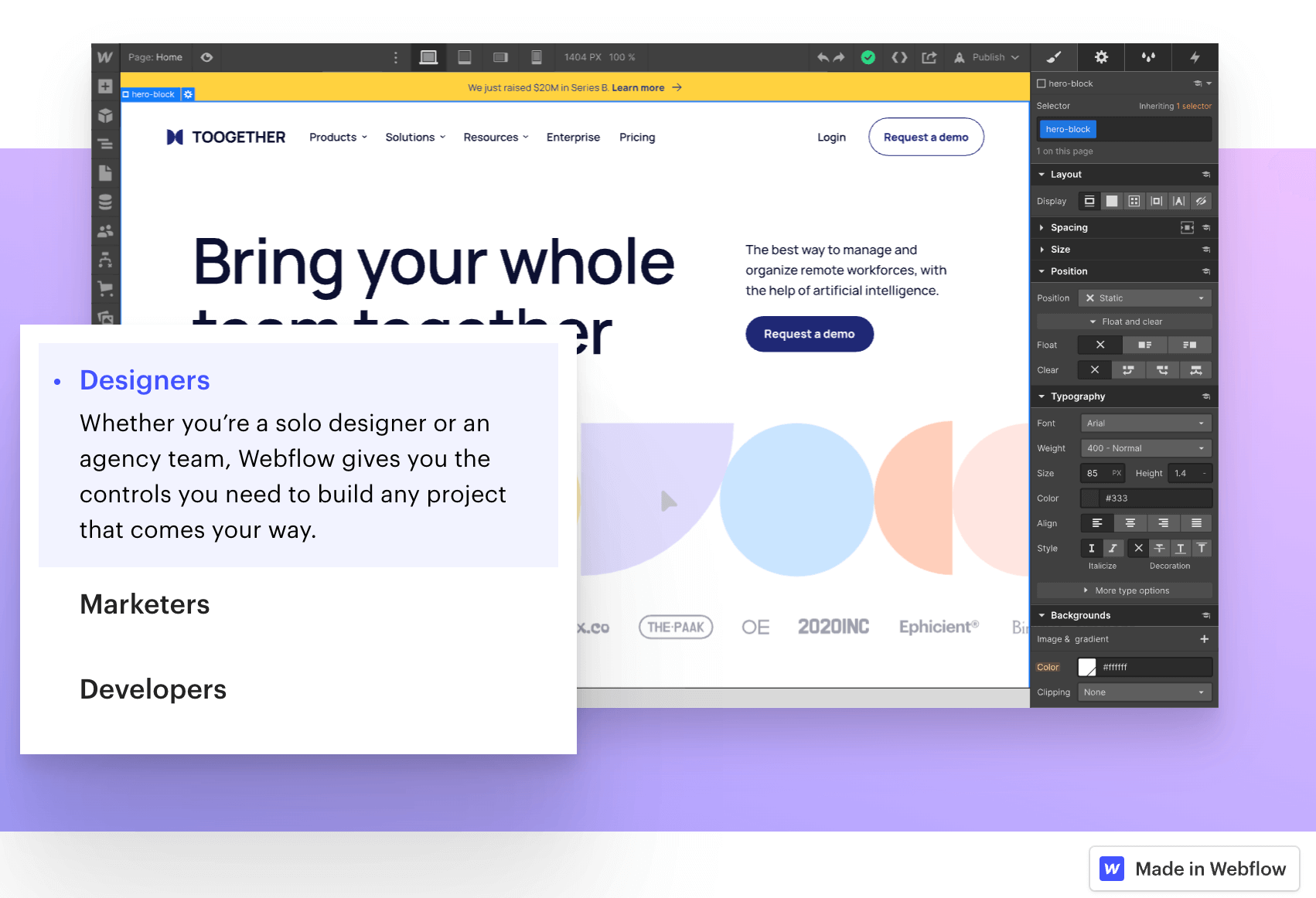 In other words, it's a website builder with clean code. That's the main difference to Wix, Squarespace, and the other classic website builders. The downside is that you need to have a basic understanding of HTML and CSS. There is a small learning curve.
The good news is that Webflow offers a great resource section for this problem.

You can access the webflow university right here.
And don't forget, you don't need to become a full-stack developer to master Webflow. All you need is a basic understanding and Webflow will do the rest! Simply by using Webflow, you'll probably learn everything automatically without any further instruction.
So, as you can see it's worth it to start using Webflow these days. The community is huge and really helpful as well. The developers love it, and so do the clients. No matter if you want to create your own page, or if you want to create pages for your clients, Webflow's user interface is just brilliant.
How Much Does Webflow Cost?
A basic Webflow site, without a content management system, costs $19 per month (assuming you choose monthly payment). With Webflow there are account plans and website plans. You can combine these two.
So, let's create an example.
Let's say you want to build a website like mine with Webflow. You would need a free account + the basic plan, which in total would add to $19 per month. 25,000 thousand monthly visits are included. That's more than enough for every starter website.
For more visitors, a content management system, or the exporting code option, you would need to either upgrade your account or your website.
You can read more about Webflows pricing here.
The easiest way to get started is to create an account with the basic plan. And if you have any questions, check out the Webflow community.
Wix
Next on our list is Wix. Wix is also a drag-and-drop editor which offers everything you need to get started with your website. Some Redditors were especially recommending it to designers, although it seems like it was the last favorite website builder on Reddit.
The general consensus was that Redditors enjoy using Squarespace, WordPress or Webflow more than Wix. Although everyone said you need to try it first and then decide. Since it's free to try you won't lose anything. If you decide to use Wix, premium plans start from $10/month. Here is a quote from a Reddit discussion comparing Wix to Squarespace:

Weebly
I couldn't find a lot about Weebly on Reddit. From what I see it's a similar website builder as Squarespace and Wix, a classic WYSIWYG editor. However, reading through all the posts, I would say Weebly is also a rather low-mentioned website builder on Reddit. In the Weebly subreddit, you'll only find approximately 500 Redditors, whereas the Squarespace subreddit has over 10.000 users.
WordPress goes even further, currently, there are over 150.000 users in the WordPress subreddit. But still, Weebly is a well-known website builder. If you like what they offer, go for it. If you choose the monthly payment, which I always recommend, you pay around $10 and Weebly also offers online shops.
Two Kinds of Website Builders
If you like to learn more about website builders, here's the most important difference you should be aware of.
Since you already know what website builders are, I'll skip the introduction and focus on their differentiating factors. The most important thing to be aware of is that there are essentially two different kinds of website builders. WYSIWYG editors and non-WYSIWYG editors.
WYSIWYG Editors
WYSIWYG stands for "what you see is what you get". These website builders are also referred to as drag-and-drop builders. The main advantage is that WYSIWYG builders provide all the necessary tools and resources for building a website in one convenient platform.
A WYSIWYG editor usually includes:
Hosting
Domain
Content management
Themes
Customer Service
Plugins
With these editors, there is no need to worry about finding a hosting provider or third-party theme, making them incredibly convenient and hassle-free. But there are some drawbacks to WYSIWYG editors. First, you're bound to their service and second, usually the code is more optimized with non-WYSIWYG editors.
I say usually, because Webflows code is actually pretty good. That's also why it's way ahead of the competition.
Examples of WYSIWYG editors:
Webflow
Squarespace
Wix
Weebly
Content Management Systems (Non-WYSIWYG)
Another way to build up a website is to use a Non-WYSIWYG website builder. WordPress is the primary option to consider here. Like you've already learned, you can use WordPress along with a premium page-building plugin such as Elementor. That's also what Reddit suggests.
The advantages of using WordPress are:
Open-source
Huge community
There is a plugin for everything
Hundreds of themes
Usually clean code, perfect for SEO
However, to use WordPress, you may need some help in setting it up. It can be a bit challenging, depending on your skills.
That's It
These are Reddit's tips on the best website builders as of 2023. If I forgot anything please send me a message.
Happy building.
Related Articles
Best Laptop according to Reddit
Best Prebuilt Gaming PC Reddit Best Noise Cancelling Headphones Reddit Is Udemy Legit?
Best Web Hosting 2023 According to Reddit
Best TV according to Reddit

Helpful Reddit Links
Best Website Builder Discussion on Reddit 1
Best Website Builder Discussion on Reddit 2